Greetings, heating and cooling pros! Are you looking to elevate your online presence and attract more clients? Look no further, as we bring you a guide to the top 49 HVAC websites.
Our team of experts has scoured the web to find and evaluate the best HVAC sites based on design, functionality, uniqueness, and user experience. From sharp and modern designs to intuitive navigation, these sites set the bar for the HVAC industry.
Not only will you find inspiration for your own website, but you'll also learn valuable tips on how to make your online presence shine.
Heat up your HVAC business with the help of this guide! You'll find website examples of heating and cooling contractors, HVAC equipment manufacturers, energy efficiency consultants, indoor air quality experts, and building automation & controls providers in this list! For website design ideas within other industries, head back to our most-liked websites of 2023 article!
---
Top Heating & Cooling Website Designs
The Modern HVAC website is one of our top choices for its clean and professional look. Although there's quite a lot of text on the homepage, the quadruple color scheme (white background with red, blue, and red text) won't strain your eyes.
You will find all the relevant information about the services and payment options here for easy decision-making. Simply scroll to the bottom of the page to check the review and financing plans.
Right at the top of the homepage are the contact channels and service scheduling options. Not only that, but you can also use this website to register your thermostat for remote operation.
The homepage greets you with a beautiful picture of the sunset, which, although not very relevant, adds to the aesthetics. However, this doesn't compromise the utility of the website, as all the information is organized properly for easy navigation.
For instance, the top menu bar comprises two tabs- residential and commercial, which list out the full range of services offered by the company. Apart from that, the 24×7 emergency helpline number is mentioned in bold white to catch your attention at first glance.
The bottom of the homepage features a contact form for a callback along with the address and operational hours of the company.
Reddi Heating & Cooling, or "the air conditioner specialists," have an intuitive website design that will appeal to even the not-so-tech-friendly people. There's relatively less text on the homepage as compared to the websites mentioned above, but there's a nice overview of the services this company provides. Plus, the size and font make for easy readability.
Another interesting aspect is that the "text us" option lets you send a direct message to the company using a suitable application from your desktop or mobile. And the other contact options are mentioned beside it so that you can find them easily during emergencies.
Carini prides itself as the best HVAC company in San Diego. Its website has a white and green color scheme, which is in accordance with the company's energy-efficient services. For us, it was a refreshing break from the more conventional white-black-red colors used for similar websites.
On the homepage, you will find a brief introduction to the company, followed by clickable images of the services offered. Furthermore, the sticky (or prevailing) header lets you select a service page even when scrolling through the homepage.
The contact number is mentioned at the top right corner of the page, while the bottom has an e-contact form.
If you're someone who chooses a service based on customer ratings, then this website will help take a call as soon as you visit the homepage.
The top half of this page is particularly designed to help visitors decide quickly, as it consists of the helpline number, consumer ratings, testimonials, and a list of cities in which the company operates. Moreover, you can visit the heating and cooling service pages through the tabs in the upper right corner.
As you scroll to the bottom, you will find an image gallery that gives a glimpse of the company's interaction with the community in general.
This website is similar to its predecessor in terms of keeping customer testimonials at the top half of the homepage. Below these are brief descriptions of the three main services the company provides. You will also find a section on company introduction in the middle-most section. Additionally, the animated icons add to the appeal of the homepage.
Appearance-wise, the white, blue, and orange color scheme looks very welcoming. While the bottom half has a tightly packed text section, it's well balanced by the Google map and contact box.
NEXGEN aims to connect with its potential customers from the get-go, which is evident from the small video introduction of the company founder on the homepage. Besides, the company's mission is highlighted with a bold red box and white text so that viewers can get valuable insight into the company's operations.
Interestingly, the homepage isn't limited to introducing just the services, which are mentioned at the bottom of the page. It also contains brief descriptions of the company's efforts to give back to the community.
The helpline numbers and 24×7 booking icon are placed both at the top and bottom of the page for quick access.
Despite containing extensive information on the homepage, the Premier HVAC services homepage is eye soothing, thanks to its minimalist design. The primary services are mentioned in brief, with round thumbnails towards the bottom of the page.
Plus, the sticky head has the "make an appointment" button on the right corner so that you can contact the company anytime while scrolling. The blog and FAQ sections are placed strategically on the homepage to reduce navigation time.
You will find the social media accounts of the company at the very bottom of the page, which can also be used to contact the company.
The Synergy Home website has a colorful interface with spacious text on a white background for easy readability. Additionally, there are multiple images and videos on the homepage that cut through the monotony of the written words. We also liked the sticky head with the helpline number and request service option at the top right corner for quick access.
Among other things are the Google reviews and the special offers mentioned towards the bottom of the page.
Right off the bat, we loved the animated flying ladybug that can be clicked on to avail a discount. This isn't something we've seen so far, so bonus points for that! In fact, there are a lot of other animated icons throughout the homepage, which make it extremely appealing.
The contact options are clearly mentioned on the header, while the cities the company operates in and an enlarged map of its location in Las Vegas (headquarters) feature at the bottom. Besides, you can click on the location tags to know more about the city-specific services.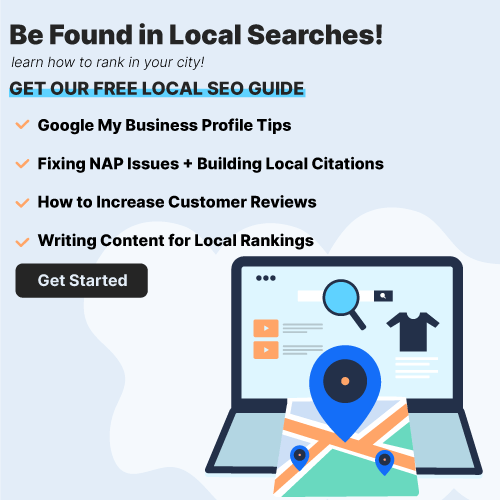 This website has bright colors for the background and text, which render a welcoming feel to it. Visitors can choose the desired service either on the header or through the drop-down box located below it. Additionally, there's a sticky footer that lets you connect with the customer service team anytime
You can also request an estimate or schedule the required service from the homepage itself. And the customer ratings on different social platforms appear at the bottom.
Related: Thinking about digital marketing for your HVAC business? It includes lead generation, reputation management, social marketing, and more!
The dominance of the green color in the website design resonates with the company's efforts toward delivering environment-friendly services. Not only does this connect with the planet-conscious visitors, but it also creates a relaxing vibe to calm your eyes. Besides, the text is spread out evenly for easy scanning.
The sticky head makes a comeback on our list with this website, and you can use it to choose a service or access the contact details. One thing to note here is that the helpline number isn't mentioned at the top like most other websites, but you can find it by clicking on the "contact" tab.
We like how this website combines different cool and warm tones to create a simple yet attractive layout. Moreover, the homepage has both a sticky header and a footer. You can learn about the company, the payment options as well as the special offers available as soon as you visit the homepage.
Furthermore, you can easily access the "request a quote" or service scheduling features from the header. It also contains links to the social media accounts of the company. The client testimonials are mentioned at the bottom of the page, along with the address and license number.
With lively transitions and relevant images supporting the written content, the Absolute website is another solid example of a well-designed layout. The homepage has small yet informative sections that help in making quick decisions. Nevertheless, you can still visit the respective pages to learn about the services in detail.
Apart from that, you can take a quick glance at the awards won by the company and the customer reviews to validate your trust. And the sticky footer message box is always at your disposal to solve any query or doubt you may have while going through the website or booking a service.
The Boston Standard Plumbing website has a very classy feel to it, thanks to the use of white, blue, and silver colors. Both the header and the section below it mention the services offered by this company. The middle section of the homepage has horizontal image cards linked to the blog page, video tutorials, and recent projects.
One standout feature of this website design is that every CTA button changes color (from deep to light blue) once the cursor is placed upon it. And the moving banner at the bottom comprises the different brands the company is familiar with.
This is yet another colorful website we came across in our search that grabs the visitors' attention without straining their eyes. The homepage has multiple CTA buttons placed strategically throughout, but they don't come across as sale-sy. Instead, they help you access important features like appointment scheduling and free quotes.
The website design also employs high-quality images, image backgrounds, and videos to cut through the sea of text. On that note, the font, size, and spacing of the words do well to enhance the overall readability, especially on the homepage. And there's a dedicated coupon section just before the customer testimonial section.
The website of this HVAC company is a true reflection of the company name, as it has a very modern feel to it. On the homepage are two images of a suburban home and a high-rise glass building, which are linked to the residential and commercial service pages, respectively. Other than that, it doesn't have too much text- just the minimum to introduce you to the company's operations.
Unlike most other HVAC websites that mention a simple list of the areas the company caters to, this one has two maps (for residential and commercial services) at the bottom of the homepage.
One of the most professional-looking websites on our list today, it has a nice balance of written words and images. The animated service thumbnails help break the "serious" appeal of the website, as does the vibrant white, blue, and red color combination. We like how all the important information is mentioned on the homepage without overwhelming the visitor.
The buttons for appointment scheduling, estimate, and financing, along with the helpline number, are mentioned on the top, no matter which service page you click on. Similarly, the message center appears in the form of a sticky footer for all pages.
Sporting a clean and intuitive layout, this website has kept things simple. The first thing that stands out is the blue-white color scheme, which is bright and calming. There isn't too much content on the homepage either; just enough to help potential customers make a well-informed decision. Furthermore, the helpline number is mentioned in bold at the very top.
We also appreciate the use of picture icons that add to the overall visual appeal of the website. Besides, there's a smooth transition between the sections as you scroll up and down the pages.
Talking about the homepage first, it's marked by animated transitions and images. However, the readability doesn't take a hit, thanks to the black text on light-colored backgrounds. The written content on the homepage is more compared to the previous website, but it's divided into small paragraphs to prevent overcrowding.
Apart from that, the air conditioning services, heating services, and special offers can be viewed by clicking on the animated icons on the homepage.
As for the header, it comprises the free estimate feature and helpline number. Moreover, people accessing the website from their mobile can place a call directly by tapping on the number.
With a vibrant layout, this website renders a professional look and feel without coming across as boring. Each web page contains crisp content broken down into relevant sections to help potential customers understand the services better. Plus, there's a good balance between the written words and visuals.
You will find the contact details and online appointment scheduling options on the homepage. These are also mentioned at the bottom of the page since there's no sticky head here. And you can quickly check the overall customer rating at the bottom.
SoCal is the top-rated residential HVAC service in LA, and its cool website design will appeal to every homeowner. Unlike most other HVAC websites that have dedicated pages for different services, this one has all the information mentioned on the homepage. Just click on the desired service on the header, and the page will automatically scroll to the related section.
Furthermore, each section has separate CTAs in the form of a helpline number and "get a quote" buttons. These are also mentioned in the heading for quick access when you're in a hurry.
The Comfort One Air Conditioning service website has a very elaborate website layout with animated transitions on every page. We liked how the license number is clearly mentioned just below the company logo on the homepage so that potential customers can verify it before booking a service.
Not only that, but it also has well-spread-out images that cut through the clutter of text. The header only consists of the helpline number, below which is the "schedule a service" button. And the menu beside it provides access to the other options like reviews, about us, etc.
Nothing adds personal touch like handwritten text, and this website has put it to best use. As such, the contact numbers and primary headings employ a handwritten font for a welcoming feel. Besides, the bright layout doesn't employ too many colors to keep things simple.
However, what really caught our attention were the image-based service "cards," clicking on which will take you the different pages. Apart from that, there's an instant appointment scheduling feature below the contact form. Simply tick the boxes for your preferred day and time of service and click on "send information."
Related: Improve your paid advertising on Facebook or Google with the help of a professional PPC consultant for HVAC contractors.
This website design has a high-end look and feel, thanks to the use of high-resolution images and an intuitive layout. The helpline number is mentioned in bold twice on the homepage, and clicking on them will allow you to place a call directly. Furthermore, the "book now" option will redirect you to the service page with detailed prices.
The contact form and customer reviews are mentioned on the homepage for quick access, so are the links for the financing options and products used. Although there's no map at the bottom like some of the other websites, there's a link that will take you to the related Google Maps page.
The PV Heating & Air website has a very modern updo with bright colors and high-quality images adorning the homepage. It also uses multiple transitions to educate potential customers about the services without any monotony. However, the other pages have relatively simple designs to bring an overall balance to the layout.
Since there's no sticky head here, the contact details are mentioned both at the top and bottom of the homepage. Plus, the services are divided in terms of appliances as well as the type of job (repair, installation, or maintenance) to aid quick decision-making.
Potential customers are greeted with a video on the homepage to understand more about the company and its services. This is a great option for people who don't want to read through chunks of text. Nevertheless, the solid colored backgrounds and short paragraphs won't tire out your eyes if you choose to read them all.
Not only that, but the website also has a quiz to help customers figure out if they need a zoned climate control system for their homes. Besides, a message box is available as the sticky footer to get in touch with the customer service team.
Although the RS mechanical website is pretty text-heavy, it uses visuals and image-based backgrounds to break through the monotony. The color scheme follows the classic white-blue-red theme with hyperlinks at the right places so that you don't have to scroll up to the header repeatedly. This enhances user convenience, especially in the absence of a sticky head.
The contact details and appointment scheduling features are mentioned at the top half of the homepage as usual. On the other hand, the reviews and address are mentioned at the bottom half of the page.
This website has a very casual and welcoming approach, which is evident from the salutation on the homepage- "how can we make you smile today?" Moreover, the contact form and chatbox are available from the get-go, encouraging potential customers to interact with the company. The homepage also mentions the overall customer ratings (in stars) on different platforms.
As for the services, they are mentioned in the sticky head and in brief on the homepage to help customers quickly scan them and find the ideal one according to their needs. Customers can even find the license number mentioned at the bottom of the homepage.
The use of bright colors like blue and green on a white background really makes this text stand out, thereby enhancing its readability. But the thing we like the most about this design is the transitioning customer review section on the homepage. Besides, you can read about the company and its services in brief here.
Whether it's for a new construction or a commercial space, Morehart Air Conditioning & Heating caters to different requirements. And potential customers can find the detailed list of serviceable areas at the bottom of the homepage.
For one, the homepage of this website is designed with multiple transitions and pop-up elements. However, the text style remains the same throughout (white or gray and bold) for easy readability. And the sticky head makes it convenient to go to the service pages or customer review section with a single click.
The honeycomb-framed images are a nice way to break the monotony of square or rectangular pictures usually used in such websites. Beyond that, the "view specials" option on the heading allows you to check discount coupons applicable for different services.
Sporting a simple and clean look, this HVAC website aims to provide optimum information without cluttering the visitor's mind. We liked how the contact options are mentioned on the top half of the page to encourage interaction. Besides, the company goal and service summary are mentioned on the homepage to facilitate quick decision-making.
The "about us" section also contains owner profiles, which helps potential customers understand more about the company. And the review section comprises only Google reviews for an enhanced sense of authenticity.
The Mountain Air website has a slightly old-school charm; however, it doesn't affect the comprehensibility of the text. Right off the bat, potential customers are greeted with a sign that says they can save thousands of dollars on new HVAC systems. Talk about leaving an impression!
Below this are the three main advantages of hiring the company along with customer reviews. You will also find brief descriptions of the services as well as the contact details on the sticky header. With a bright layout and concise yet informational content, this is an ideal inspiration for HVAC companies looking to create a functional and attention-grabbing website.
Bowman Mechanical Services has a clean website design with minimal transition to create a pleasing appearance. Each page employs the classic combination of a white background with black text, which never fails to impress. The hyperlinks are strategically placed so that you're redirected to the right pages when reading the informational content.
We liked how the images are high-quality yet relevant and basic, which doesn't shift your focus from the more important aspects like the company's history or services. This can help garner the trust of potential customers, as they can rest assured knowing that the company prioritizes transparency.
Aside from the catchy brand name, Dependable has a bold website layout to keep customers hooked and encourages interaction. That's why the first thing you see on the homepage is the e-contact form, with the contact number and service scheduling option mentioned on top.
While the main services are described in short on the homepage, the details of the other services can be found on their respective pages. The content there is short and divided into bullet points, so you don't have to spend hours reading it. Plus, the contact information is mentioned at the bottom of every page.
Well, an HVAC service called Comfortman already does a lot to relieve stress, doesn't it? But this company doesn't leave it only to that. It has put in enough effort to design a website that makes customers rely on it. And it does so by mentioning all the information related to the company history and services on its homepage.
Not only that, but you will also find dedicated FAQs and product pages to resolve all your queries about installing HVAC systems and the products the company uses. The latter is a great way to determine the standard of service, as any top HVAC service company won't use low-quality products.
Although this website also uses quite a few transitional effects, they don't affect the overall professional look and feel. Besides, the transitions are only visible when you open the homepage for the first time, so you don't have to worry about any important text or image disappearing when reading the content.
The highlight of the layout is an animated illustration of how a ductless mini-split HVAC system functions for anyone interested. However, you can still learn more about it by clicking on the "go ductless" button adjacent to it. Plus, there's adequate information about financing and tax credits in dedicated sections.
Related: Start showing up in the Google map pack in your local area with the help of nearby SEO services for heating and cooling contractors.
Unlike many HVAC websites that have the timings and address mentioned at the bottom of the homepage, this one has everything in the top half. Hence, you don't have to scroll all the way to the bottom, saving time during emergencies. Likewise, the link to book the services online is mentioned above the header.
What we haven't seen before is a monthly installment calculator like the one here on the homepage. Click on the "get my rates" option to know about pre-qualified rates or the best installment plans according to your employment status in a couple of minutes.
This website welcomes potential customers with a scenic image of the city and mountains, along with the option to get a free quote. Although the contact details aren't mentioned in the sticky header directly, you can always click on the "contact" option to access the e-contact form. And the helpline number and email address are mentioned at the bottom.
The homepage sports a minimal look with neatly structured text boxes and statistics related to the company's experience, customers served, and team members.
We have yet another colorful website layout that will appeal to HVAC companies looking to design a cool yet fully functional website. It starts with a Phoenix bird logo at the middle, with the special offers, appointment booking, and contact numbers mentioned beside it. And although the sticky header is quite big, you won't have any problems reading the rest of the content on the homepage.
Besides, the e-contact form at the bottom of this page doesn't require you to fill in a lot of details since it has quite a few questions with drop-down boxes for answers.
With the aim of "creating customers for a lifetime," Copper Climate Control provides some of the best HVAC services in Phoenix. And its intuitive website design is a testimony to its efforts. The crisp homepage has well-organized content in the right categories so that potential customers can quickly locate them.
Moreover, there are multiple buttons to request a service, get a free estimate, call, or text the customer representative team for added convenience. The high-quality images used for this website are embedded on solid-colored backgrounds with a white, blue, black, and red color scheme throughout.
The white, pink, and gray color scheme used in this website creates quite a first impression. Although the homepage has minimum text, it employs just the right catchphrases to earn the trust of potential customers. Moreover, the homepage doesn't aim to sell the services from the get-go; rather, it connects you to qualified technicians to solve your HVAC problems.
However, you can read more about the services by going to the respective pages to learn about them. The contact details are mentioned on the header of the homepage, and the sticky footer allows you to send a direct message to the company.
The Heaths Air website comprises neatly organized sections for service descriptions and customer testimonials, which can be found on the homepage. There are minimum transitions, most of which are limited to the sticky header when moving the cursor from one tab to another. Moreover, you can schedule an appointment by clicking on "schedule now."
At the bottom of the homage is an e-contact form, which can be filled out in a couple of minutes. The customer service representatives will get back to you upon the successful submission of this form; meanwhile, you can check out the financing options.
This website has a visually appealing website made of bright colors and high-quality images. It also marks the return of hand-written fonts, which goes well with the rest of the content style. And the homepage has all the information you need to make a decision without becoming overwhelming to read.
There's a dedicated section for Google reviews as well, which many people consider the epitome of authentic information. Moreover, you can search for specific words or services by clicking on the magnifying button at the right corner of the heading.
Honestly, the homepage of this website reminded us of the colors and effects generally used in a PowerPoint presentation! It greets you with a picture of a happy family sleeping soundly, followed by a brief yet highly informative company history and service description. This content is supported by a short video to give customers a better insight into the operations.
One noteworthy thing about this HVAC service company is that it specializes in Daikin AC installation. You can learn more about it by clicking on the "Daikin Fit Installation" card on the homepage. Plus, you can go through the current offers and team members.
Towards the end of the list, this website introduced us to another unique element that we hadn't seen so far, i.e., a video background showing the team at work. And the bold white text ensures that you can read everything clearly without straining your eyes. This is followed by an e-contact form, while the helpline number is mentioned on the sticky header.
The links to the other service pages are mentioned below this (on a yellow band), and every page has the address and operating hours mentioned below.
A/C Doctors have a funky logo that will successfully grab the attention of potential customers, and the bold website layout does well to keep them hooked. The webpage starts with a transitioning section, which takes you through the scheduling, areas serviced, and emergency contact options.
Aside from that, you can learn about financing options and promotional coupons to avail the best deals. Potential customers can also sign up for an annual maintenance program following a few easy steps to avoid going through the hassle of scheduling a service repeatedly.
A clean layout with subtle colors marks this website design, with all the important information at a glance on the homepage. The images bring some much-needed balance to the pages, while the black heading and bottom panel complement the white background. Moreover, the contact channels are mentioned at regular intervals to facilitate ease of calling.
Much like its predecessor, this company also enables customers to sign up for membership plans according to their inconvenience.
---
How to Build a Great HVAC Contractor Website
Are you in the process of building a new website for your HVAC contracting business? How exciting!
Let's walk through some of the most important steps in building a new, or redesigning an existing, HVAC contractor website.
Feel free to skip the first few sections if you already have a domain name, hosting service, and website platform picked out!
1.) Purchasing a Domain Name
Picking out a domain name for your HVAC contractor website is a crucial step in establishing your online identity. It serves as the address that visitors will use to access your website, and it plays a significant role in branding and recognition of your business.
Here's a step-by-step process to help you choose the perfect domain name:
Brainstorm: Start by thinking of ideas for your domain name, considering the name of your business, the services you offer, and your location.
Simplicity: Try to keep your domain name simple, easy to spell, and pronounce. Avoid using complex words, hyphens, or numbers.
Consistency: If your business has an established brand name, it's generally a good idea to include it in your domain name. For example, if your business name is Mark's Family Heating, don't register a domain name such as AffordableHVACServices.net.
Availability: Check the availability of your desired domain names before proceeding. Many common domain names have already been purchased. If that's the case, see if your desired domain name is being used and is available for sale. However, be cautious about investing too much money in buying a domain name that is for sale.
Domain Extensions: Consider which domain name extension best suits your website's purpose. While .com is the most common and widely recognized extension, there are many other options available, such as .net, .org, or industry-specific extensions like .contractors.
Legal Considerations: Before registering your domain name, conduct a trademark search to ensure that your chosen name doesn't infringe upon someone else's intellectual property. For example, don't register a domain name that includes another HVAC contractor's business name or the name of a well-known HVAC equipment manufacturer.
2.) Choosing a Website Platform
After figuring out your domain name, the next step is selecting a website platform for your HVAC website.
Most heating and cooling companies are going to develop content-based websites with appointment calendars, service schedulers, phone numbers, live chats, and contact forms to drive conversions.
WordPress is an excellent platform choice. However, there are also alternatives like Wix and other hosted website builders available.
WordPress: WordPress is a highly versatile and widely used content management system (CMS) that offers extensive flexibility and customization options. It caters to all types of HVAC contractor websites, from simple informational sites to more complex websites offering online appointment scheduling through third-party plugins. With a wide range of HVAC-inspired themes and useful plugins available, WordPress allows you to create a highly personalized website tailored to your HVAC contracting business. It's a great choice if you value control and want the ability to expand your website's functionality over time. Although there is a hosted version of WordPress, most users prefer the open-source version installed on a web hosting account.
Wix: The Wix platform is similar to WordPress, offering comparable page-building features. We've also worked on HVAC contractor websites built with Wix, and it provides a user-friendly page builder. With Wix, you won't need a separate web hosting service as it is a hosted solution.
Web Hosting Requirements
If you choose a platform like WordPress or WooCommerce, you'll need to find a web hosting service.
As a recommendation, we often suggest our own web hosting service because of its compatibility with WordPress websites. For reliable web hosting services from other hosting companies, consider the following:
WP Engine: This is one of our top choices for web hosting services for HVAC contractors. WP Engine offers a great control panel that makes it easy to create staging websites. Their backup process is also seamless. The only downside we've encountered is the limitations they place on PHP max_execution_time. Keep in mind that their pricing increases quickly if you require upgraded services.
SiteGround: We've always had a positive experience with SiteGround. Their live chat and email support are excellent compared to more well-known hosting firms. We've never had to wait long to get in touch with someone, and the first person we interacted with typically solved the issue. Their backup tools are user-friendly, and they offer reasonable pricing for HVAC contractors.
Digital Ocean: This is a great option for cloud hosting, although it may be too advanced for most HVAC contractor websites. Unlike other cloud networks we've tried, we've never had issues with the Digital Ocean cloud network. However, cloud hosting can be an expensive option when factoring in droplet (server instance) costs, operating system, control panel, server software, offsite backup, and server management fees. For server administration, you can consider a recommendation from AdminGeekZ.
3.) Selecting a Website Template
Most HVAC contractors prefer to purchase and customize a third-party website template as it significantly reduces web development costs and turnaround time. However, if your HVAC business prefers a custom design, you can always hire a custom web developer or custom ecommerce developer to build a theme specifically tailored to your requirements.
For guidance on setting up your HVAC website, let's focus on suggestions for finding pre-built website templates. Here are some links to the main theme marketplaces to explore:
WordPress HVAC Themes
You can find free themes at wordpress.org or consider HVAC-inspired templates at ThemeForest.
Airtech – Themeforest
$59
HeaCool – Themeforest
$59
Airtronix – Themeforest
$49
ProHauz – Themeforest
$69
Wix HVAC Themes
You can find free and paid themes in their marketplace at wix.com, some of which are suitable for HVAC contractors.
4.) Creating Compelling Content & Adding Visuals
Now that you've finalized your domain name, website platform, and theme, it's time to start building captivating content for your HVAC contractor website!
There are several strategies you can follow to create engaging and effective website copy. Let's explore a few:
Know your target audience: Before writing a single word, gain a clear understanding of your target audience. Define their demographics, preferences, and needs. Tailor your content to address their pain points, provide value, and resonate with them. This will help ensure your HVAC website ranks well in relevant search engine queries.
Define your key messages: Determine the main messages you want to convey through your website content. These should align with your brand, highlight your unique advantages, and clearly communicate the benefits of your HVAC services or products.
Keep it concise and scannable: Online readers tend to scan content, so make sure your writing is concise and easy to digest. Use short paragraphs, bullet points, subheadings, and bold text to break up the content and enhance readability.
Create clear and compelling headlines: Craft attention-grabbing headlines that immediately communicate the value and relevance of your HVAC business. A well-crafted headline can entice visitors to explore your website further and learn more about your services.
Incorporate keywords strategically: Conduct keyword research and naturally incorporate relevant keywords throughout your content. This can improve your HVAC website's visibility in search engine results. However, avoid keyword stuffing, as it can negatively impact readability and user experience. Tools like Ahrefs or Semrush can assist with keyword research.
Maintain a conversational tone: Write in a conversational manner that resonates with your HVAC audience. Avoid jargon or overly technical language unless your target audience specifically requires it. Engage your readers by addressing them directly and using a friendly, approachable style. For instance, you don't need to explain complex HVAC system details unless the reader is seeking specific technical information.
Edit and proofread: Always edit and proofread your HVAC content before publishing. Check for grammar, spelling, and punctuation errors. Ensure the flow of your content is smooth and logical, and that it aligns with your brand voice and style guidelines. Tools like Grammarly can be helpful in this process.
Utilize ChatGPT for assistance: If you encounter difficulties generating ideas or need help refining the content on your HVAC website, consider leveraging AI tools like ChatGPT.
You'll want to enhance the readability of your content by incorporating relevant, high-quality images. Here are some tips:
Use high-quality images: Opt for visually appealing and well-composed high-resolution images. Blurry or pixelated images can detract from the overall quality of your HVAC website.
Ensure relevance: Select images that are relevant to your content and help illustrate your message. Your HVAC company's images should enhance the text and provide additional context or visual interest.
Consider stock photo resources: Explore reputable stock photo websites like Unsplash, Pixabay, or Shutterstock to find a wide range of professional-quality HVAC-related images that align with your brand. Ensure compliance with licensing requirements and attribute images when necessary.
Customize images when possible: If you have the skills or resources, consider customizing or branding images to align them with your HVAC brand. This can create a cohesive visual experience for your visitors. Tools like Adobe Photoshop or Canva can assist in this process.
Optimize image file sizes: Compress images to optimize their file sizes without compromising quality. Large image files can slow down your HVAC website's page speed, affecting user experience and SEO. Tools like TinyPNG can help with image compression.
5.) Essential Tasks After Website Launch
Once you have built and launched your HVAC contractor website, there are several important tasks and services to consider to maximize its effectiveness. Here are some basic suggestions to help you navigate post-launch activities:
Search Engine Optimization (SEO): Implementing SEO strategies is crucial to improving your HVAC company's visibility in local search results. Conduct keyword research, optimize your content, and ensure your website has a solid internal linking structure. Regularly update and create fresh, high-quality content to attract organic traffic. Consider hiring our SEO team or exploring third-party providers like The HOTH for assistance.
Paid Advertising: For faster traffic turnaround, consider utilizing paid advertising platforms like Google Ads or Facebook Ads to drive targeted visitors to your HVAC business. You can hire our PPC management services or find talented professionals on websites like Mayple.
Conversion Rate Optimization (CRO): Analyze your HVAC website's performance and user behavior using tools like Google Analytics. Identify areas where users may drop off or encounter barriers to conversion. Conduct A/B testing with tools like VWO to make data-driven changes that improve your website's conversion rates and overall user experience.
Website Security: Protecting your HVAC website from malware and other security threats is crucial. Ensure robust security measures, such as SSL certificates, web application firewalls (like Sucuri), and regular backups. Keep your CMS, plugins, and themes up to date to minimize vulnerabilities. Monitor your website for potential security risks and promptly address any issues. Additionally, consider using a service like UptimeRobot to track website uptime.
Website Maintenance: Regularly maintain your HVAC website to ensure optimal performance. If you're using WordPress, this includes updating plugins and themes, monitoring website speed and performance, and resolving broken links or errors. You can hire our website maintenance services or consider hiring a freelancer from platforms like Upwork. Don't forget to regularly back up your HVAC website to safeguard against data loss or technical issues.
User Feedback and Testing: Actively seek user feedback to understand visitor experiences and identify areas for improvement on your HVAC website. Implement user testing to gather insights on how users interact with your site. Use this feedback to make iterative enhancements and continuously optimize the user experience.
Content Updates: Keep your website content fresh and up to date. Regularly publish blog posts related to HVAC topics, update product or service information, and ensure all information is accurate and relevant. Engaging and valuable content not only attracts visitors but also encourages them to return and share your content with others interested in HVAC services.
Remember, post-launch digital marketing activities are crucial for the long-term success of your HVAC website. Stay proactive, monitor performance, and adapt your strategies to achieve your business goals and meet the needs of your audience.
---
FAQs about Web Development for HVAC Websites
What is the cost of a Heating & Cooling website? 
You can expect the starting price of a template-based HVAC website built in WordPress to be around $4,000. If you need design mockups built into a custom theme, expect a higher starting price in the area of $10,000. The main contributors to cost increases include premium design requirements, custom functionality, and data migration.
How Do I Get My HVAC Website Seen?
To increase the visibility of your HVAC website, you can implement various strategies, such as optimizing it for search engines, listing your business on local directories, engaging in social media marketing, using PPC advertising, and creating valuable content to attract potential customers. These efforts can help drive traffic to your website and improve your online presence.
What if I need help on my site down the road?
If you need help with your site down the road, we provide maintenance, updates, and technical support services. Whether you encounter technical issues, require content updates, or want to implement new features, our team is here to assist you promptly and efficiently. We value our clients' long-term success and are committed to providing reliable support to ensure your website continues to function smoothly and effectively as your business evolves.
How long does a website redesign take?
A website redesign project, especially with a template-based site, typically takes 4 to 12 weeks. Using a template can expedite the process, reducing both development time and overall costs. Despite the quick turnaround, we ensure a high-quality, visually appealing, and user-friendly website that meets your objectives effectively.
---