Greetings, industrial leaders! Are you looking to enhance your online presence and reach more customers? Look no further, as we bring you a guide to the top 50 industrial websites.
Our team of experts has scoured the web to find and evaluate the best industrial sites based on design, functionality, uniqueness, and user experience. From sleek and professional designs to intuitive navigation, these sites set the standard for the industrial world.
Not only will you find inspiration for your own website, but you'll also learn valuable tips on how to make your online presence shine.
Prepare to give your industrial business a boost with the help of this web design ideas guide! You'll find website examples of chemical, construction, engineering, logistics, transportation, metals & mining, electrical, aerospace, and defense companies in this list! For examples within other industries, head back to our expertly designed website examples blog article!
---
Top Industrial Website Designs
The relatively simplistic design of this website is one of the first things you will notice on visiting it. You'll see that the red color has been used for most of the front page CTA buttons, which is in line with the company logo, which is set in a red background. The quick links on the header also turn from black to red when you hover over them.
There are several image-based links to some of the top pages and two search bars, making navigation fairly easy. You'll also find links for the company's social media handles at the bottom, which makes it convenient to engage with the brands on such platforms.
There is an abundance of green and gray colors on this website, along with some blue. Both the header and footer sections have gray backgrounds, accompanied by bold white text, which provides a good contrast to keep the viewer interested. Conversely, the links and buttons are mostly green, and if you hover over them, they turn light blue for an interactive experience.
The "about us," "manufacturing," and "services" options display drop-down lists when you hover over them, which makes them easier to navigate. In fact, the main page consists of all the relevant links that a customer might seek. The website also displays moving images and videos, which is a nice touch.
This website has a blue color scheme, along with some gray, which is in accordance with the brand logo. All the buttons have a blue color, which changes to a lighter shade when you hover over them. Furthermore, the web links provided in boxes have a 3D shadow effect when you hover over them, which visitors may find interesting.
The banner consists of a large image that changes periodically, and each image links to a specific page. There is also a map below the banner that highlights all the company facilities in the US.
When you visit this website, you'll see that it follows a red and black color scheme. Its header and footer sections are in black, and some of the website graphics and backgrounds are in red. Moreover, the text on the website utilizes different fonts, which makes it even more unique.
The banner plays a video that makes it appealing to visitors. Likewise, each CTA link has a large accompanying image, which helps to attract the visitor's attention. When you hover over them, they get an underline effect. The static sign-up panel at the top right deserves special mention as well.
This website has a catchy and minimalistic design accompanied by a black and red color scheme. Similarly, the bold white font works great against the black background. The buttons are red with white text, and they turn white with black texts when you hover over them.
Also, the banner has interesting transition effects as it cycles between different images every few seconds. Below the banner is a navigation bar with icons that help you navigate to the different departments of the company. The static accessibility menu button on the left of the page deserves special mention, as it allows you to customize every visual aspect of the website.
There is a black and gray color scheme on this website, with some red accents in certain parts. All the images are gray, and the texts have a black font that turns red on hovering over them. Apart from that, there are other interesting effects when you hover over some of the links on the page, which hold the visitor's attention.
You will find all the links to the company's social media handles on the website header itself. Besides, there is a testimonial section towards the bottom of the site that cycles between different customer testimonials every few seconds.
American Alloy Fabricators has a bold blue color scheme on its website. You'll find important contact information, such as its e-mail address and telephone number, right at the top of the page. And the sticky header makes it easy to navigate the website as well.
When you hover over the CTA buttons and texts, they will turn red. Even the drop-down menus from the header have dynamic effects that are visually quite appealing. It also has a blog section near the bottom that offers a lot of resources about the brand and its services.
There is a large banner on this website, complete with text transition effects and animated graphics, to grab the visitor's attention quickly. Furthermore, you'll find social media links and contact information at the top of the website to help you get in touch with the service team.
Besides, the sticky header at the top makes it easier to navigate through the website. Most of the links and buttons on the main page are in green and blue, with some having quirky animation effects. There is a fair number of images too, which cover large sections of the site, thereby making it visually interesting.
When you visit the Lockheed Martin Corporation website, you will be greeted with a professional-looking website. The header contains all relevant links for the website, along with a search function. Below the banner, there is an option to sign up for the company's newsletter, followed by a section that contains the brand's slogan.
Its news section is of particular interest, as it contains links to several stories and articles about the company. Each of these articles is accompanied by a thumbnail image, which not only makes it appealing but also gives the user an idea about its contents.
The website of M3 Glass Technologies has a very professional design with a light blue color scheme to match the brand's logo. Its banner comprises different images cycling at fixed intervals. The buttons on the banner have a glossy animation effect, similar to a glass reflection. Likewise, the sticky header that displays drop-down lists on hovering over it is another user-friendly design choice.
What's more, the products section located below the banner has dynamic effects when moving between different items. Additionally, there is a section near the bottom that links to the resources library, which visitors will find useful.
3M Science has included a large search bar on top of the website, which makes it easy to search for anything. Below the header lies the banner, where you will see some quick links to relevant company pages. These links are denoted with graphical icons as well as text.
Most of the texts in the top half of the page have a 3D floating effect when you hover over it. Conversely, the CTA buttons have a more conventional effect. There is also a static feedback tab on the right, which can be used by visitors to give feedback about the site's design.
This website comes with a red color scheme, which you can see on most of the buttons, except the header, which has a black semi-transparent color scheme. If you hover over it, it will reveal a solid black drop-down menu. And the fact that it is stuck at the top is a bonus.
The banner contains a navigation button that leads you to the section about the brand's product lineups. Apart from that, there is a blog and news section near the bottom, which partially displays some of the top blog articles.
When you visit the Caterpillar website, you will immediately recognize the brand's signature yellow and black color scheme. The site has a black header that uses bold white text. When you hover over the text, it turns yellow and reveals a drop-down menu with more links. Most of the other text links on the website use black text, which also turns yellow.
In contrast, the buttons are yellow with black text, which changes to black (with white text) on hovering. Overall the site has a very simplistic design, with a lot of yellow accents throughout.
Upon visiting the DuPont Website, you will be greeted with a large banner. If you scroll down, you will see links to different pages and articles. Each CTA has a large image accompanying it, which visitors may find visually appealing.
As for the buttons and texts themselves, they are in black, which turns red when you hover over them. The sticky header section remains at the top, which makes navigation easier. Apart from that, there is a featured news section near the bottom, which acts as a channel for communication between the brand and its customers.
Throughout this website, a blue color scheme has been used, with most of the links, buttons, and graphical icons displayed in this color. Even the black texts in the header become blue on hovering. The notable exception to this is the website footer, where all the text links are entirely in black.
Another interesting feature of this website is the static virtual assistant tab at the bottom right. With it, you can conveniently seek answers to any questions about the company. Simply type your questions in the chat box, and the chatbot will provide you with speedy replies.
The AGCO Corporation website has a relatively large banner that cycles between different images periodically. Each banner image contains links to different pages denoted by a red button. The red color has been used in quite a few places throughout the website.
Right below the banner, you'll see a section dedicated to news and media about the company. It only contains some of the top stories, but there is a link to access all the news. Subsequently, you can find all the social media handles of the company in the website footer, along with other relevant browsing options that link to specific pages.
This website has an interesting header design that catches the attention of most visitors. Apart from the conventional white header located at the very top of the website, there is a secondary header in blue that overlaps with the website banner. In fact, the blue color has been used a lot throughout the website.
The banner itself comprises cycling images, but the CTA buttons on these images have been placed in such a manner that it appears to be an extension of the header. Additionally, there are some more useful links below the banner, which display animated icons when you hover over them.
Related: Boost your organic traffic with SEO services targeted toward industrial companies.
Fendt has used a green color scheme to match the brand's logo. Almost all the texts, buttons, and menus are highlighted in green when you hover over them. Even some of the graphics and images used on the site have a green color scheme.
Every few seconds, you'll see that the banner cycles between different background images and videos. What's more, there are three static tabs on the right, and the links for two of them are found on the header as well. Besides, there are dedicated sections for news, events, and company information, which can be very helpful for potential customers.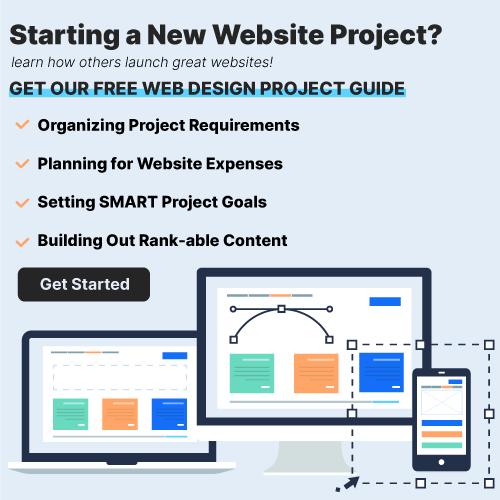 This website uses a visually catchy red color scheme, which can get the visitors hooked. The banner consists of different images that cycle periodically. Each banner leads to a different part of the site via red buttons.
Below the banner, there are some large icons in red that help you do your research about the company. There are even more useful links below, each of which is accompanied by red texts and a thumbnail image. Furthermore, there's a sticky header and footer bar at the top and bottom, thereby making it convenient to navigate.
The large header featured on this website is definitely something that can attract the attention of most visitors. This banner slowly fades into the black color of the subsequent section, which is a pretty unique design choice. The header section is transparent, but once you scroll down, it gets stuck at the top and takes on a solid black background.
On hovering over the header links, their white text changes to red. Likewise, there are a lot of red accents and buttons used elsewhere on the website. And towards the bottom, there is a large black background with a wavy white strip that has the silhouette of treetops.
One of the most prominent aspects of this website is the large product section that is conveniently categorized. Subsequently, each product tile in this section consists of a quick view button, which displays the basic features of the product after an attractive transition effect.
Moreover, the red color on the links and buttons is eye-catching. There is a red navigation panel on the right side that expands to show some useful links. You'll also find a lot of images on the website, which makes it even more interesting for the visitor.
Volvo Trucks maintains a website that has a very simple yet professional-looking design. There are no banners to speak of, but the site does feature large tiles at the top. Each tile contains a thumbnail image and links to a specific webpage. The header consists of a gray bar, while the footer consists of a narrow black bar.
Besides, there is a section dedicated to the current truck lineup, which potential customers may find useful. You'll also notice a static button on the bottom left that allows you to change cookies settings.
The website of York is relatively simplistic, yet the overall aesthetic is appealing enough to hook visitors. Its header consists of only two tabs and a search bar. And instead of a banner, there are two tiles with thumbnail images and buttons that lead to different pages.
Likewise, the blue color scheme is quite appealing, and some links are highlighted with a green and blue underline when you hover over them. The footer is dynamic, and it changes based on the tab that has been selected. Also, there is a feedback button on the right that deserves mention.
This website features a scrollable changing banner, which is an interesting design choice. The design accommodates the white text box at the bottom, whose content is associated with the current banner image.
Below the banner is a simple section about the latest company news. Further down, there's a section that has a soothing blue color with several icons that have a diagonally striped background. Moreover, all the website buttons change to a darker shade when you hover over them. And the sticky header makes it convenient for the user to navigate the site.
The most prominent feature visitors will notice about this site is the large, non-rectangular video banner that has a fade-out design and bold, multicolored text. In fact, most of the website sections have a similar non-rectangular design to grab the visitor's attention.
Its rectangular blue section features a collection of tiles that link to different articles about the company. The scrolling effect between the tiles is pretty interesting too. Besides, the site's navy blue and lime color schemes are intriguing. Even the buttons on this website come with a unique effect that changes them to a darker shade.
One of the first things you will notice about this website is its emphasis on parallelogram shapes. All the buttons are in this shape, and a part of the shape is visible on the left side of the website banner as well. You'll notice it even in the footer section of this website.
Another interesting aspect is the expandable text boxes on the banner. Each of these boxes contains a link to a different part of the website. Also, the "Accessibility Adjustments" icon at the bottom left of the page needs special mention.
Most visitors to this website will find the banner design unique. It has circular edges at the bottom and comprises different images that can be changed if you click on the plus sign. Even other images on the site have a similar rounded edge design.
This website has a sticky header and uses large and bold text for convenience. And the buttons have interesting animation effects when you hover over them. Furthermore, a section in the middle has a video background to hold the attention of visitors.
An interesting feature of this website is that it allows you to pause the video on the banner. It has a transparent header, which gets stuck on top with a solid white background when you scroll down.
Another highlight of the website is the large social section, which displays the recent posts made by the company across different social media platforms. Along with the adjacent news section, it significantly helps to drive consumer engagement. Besides, the red color used on the buttons, links, and header menus is pretty striking.
Visually, this website stands out quite a bit since each section is designed like a large banner. These sections have large, high-resolution images, bold text, and buttons that change color upon hovering.
Towards the bottom, there is a segment that consists of different tiles with image thumbnails that lead to different pages. When you hover over these tiles, the background will change to a semi-transparent white color while displaying some additional text. On top of that, the sticky header makes it convenient to navigate through the site.
This website has a striking blue and black color scheme that visitors may find fairly attractive. The large banner has a static background that contains the brand's logo. Similarly, the next section of the website has a large background image that fades into black to talk about the quality the brand stands by.
The subsequent section covers a large area and has a semi-transparent blue background with an image below it. In this section, you'll see a play button, which if clicked, opens a video that covers the whole page.
Related: Looking to improve the effectiveness of your paid ads? Check out these PPC services from a company helping industrial companies.
Foxconn is a Chinese manufacturing company, which is why you'll notice some Chinese texts on its webpage. This website has a blue color scheme, while some buttons and text have red accents. The transition between different sections has fade-out designs, which provide a unique appearance to the site.
Its header is transparent and is a part of the video-based banner. However, if you scroll down, it gets a semi-transparent blue background and becomes glued to the top. On that note, if you hover over the header links, a white drop-down menu is displayed.
Bosch has a very sleek and professional-looking website, which is engaging for visitors. You'll notice a very thin multi-colored strip at the top, followed by the minimalistic header that contains only three tabs besides the logo. The other parts of the website can be accessed if you click on the menu tab of the header.
Most of the text links are in black, which changes to blue if you hover over them. The top and middle portions contain an adequate number of images to keep the user hooked. And the bottom section contains several black tiles, along with a contacts segment.
The overall aesthetic of this website easily grabs the attention of users. There is a large banner with a curved edge that contains a conveniently placed search box. You'll see a lot of blue on the site, but there are other colors as well. And there are a lot of graphics on the page, which keeps the visitor hooked.
On the right, there's a tracker which shows you the section of the site you are currently browsing. Besides, both the header and footer are sticky, which makes it convenient to navigate the site.
The IBM website has a simple yet efficient design that users may find attractive. Its white banner complements the white site background really well. And while there is no definitive color scheme to speak of, most of the links and buttons have a bright blue color.
There is an adequate number of images that keeps the website interesting without becoming too cluttered. Near the top left, there's an interactive tracker that indicates what part of the site you are browsing. The sticky header makes navigation convenient, while the large footer contains numerous important linked texts.
A contrasting color scheme is one of the most noticeable aspects of this website. There's a navy background, but the links and buttons have a cyan or lime color. Some of the links have white text, but they too, change into the above color when you hover over them.
Once you scroll down, you'll see texts linking to different articles about the company. Another noteworthy feature of the website is the static "Contact us" button at the bottom right.
The Unilever website uses digital art alongside real images, which visitors may find very engaging. There are a lot of colors on this website as well, with blue being used the most. Some of the sections, such as the header and footer, as well as the text links, are in bright blue.
On that note, each CTA button on the site has a distinct color-changing effect on hovering over it. Functionality-wise, the presence of a large search bar below the banner is convenient. Likewise, the bold font used throughout the site enhances visibility.
When you visit the Raytheon website, you will be greeted with a large video banner. The linked text on the banner is in white, which changes to red when you move the cursor over it. Similarly, there are more tiles with image thumbnails below, and each leads to a specific article about the company.
There are other tiles below which have eye-catching effects on hovering. Overall, there is an adequate number of images to keep the visitor hooked. Another notable feature is the sticky header, which only appears if you are scrolling up.
Related: Rank your aviation company in search results with the help of quality SEO services.
One interesting aspect of this website is that there are embedded videos on some of the banner images. The sticky header is transparent, but it gets a black background when you scroll or hover over it.
If you scroll down, you'll come across colorful tabs, which immediately grab the user's attention. There are even more tabs below that have image thumbnails and an attractive flipping effect when you move over them. Also, the background graphics on the footer have a dynamic effect when scrolling. Likewise, the virtual chatbot on the bottom right deserves special mention.
The most striking feature of the GE website is the background. If you scroll down, you'll see that a real image changes into a digital sketch. Such a transition is incredibly unique and keeps the users hooked to the website.
This website also features a lot of asymmetric features, like the textboxes used on images and tiles. There is a static tracker button on the top left, which only appears if you scroll down enough. It tells you what section of the site you are browsing. You can change the overall appearance of the site, too, thanks to the accessibility adjustments tab on the bottom left.
From a visual standpoint, the Samsung website is pretty simple, but it effectively engages the audience. First off, you get a video-based banner that you can pause. Below the banner, you have different sections showcasing the latest and highlighted products arranged across different categories.
Then there are some useful articles near the bottom, which are accompanied by large and attractive image thumbnails and transition effects. Besides, there's a static tab on the bottom left that you can use to chat with experts.
The Nestle website features a large header with a conveniently placed search bar that is difficult to miss. Its banner comprises changeable images, with each image linked to a different page.
There's a section with a pink background that displays all the latest news about the company. Below that, you'll see some of the most popular brands owned by the company, depicted only by their respective logos. What's more, there is a static feedback tab near the bottom right and a tab to adjust cookies settings in the bottom right corner.
Related: Energize your advertising budget with the inclusion of digital marketing services from an agency specializing in industrial companies.
A unique feature of this site is that it uses a sidebar for displaying important links instead of using a traditional header and footer. You can shrink or expand the sidebar as per your convenience. Consequently, you'll see that the logo changes dynamically.
This website's banner displays images that link to some important pages. There is a similar banner-like structure below that links to highlighted stories and articles. Besides, there is a section that displays the recent social media posts made by the company, which helps drive engagement.
The overall design and blue color scheme of the website are highly attractive and can instantly grab the attention of audiences. There's a large video banner with a fade-out effect near the bottom. The top header is normally transparent but gets a blue background when you hover over it. And the header automatically appears at the top when scrolling up.
There are tiles with image thumbnails that overlap the banner. You'll see more tiles near the bottom, but they have a more conventional design with solid text boxes. Moreover, the background image placements help to keep the visitor hooked.
This website has a red color scheme with most of the links, buttons, and the "Essential Highlights" are displayed in this color. On scrolling further down, you'll come across a large section with a soothing blue background, addressing the Opioid Crisis. Here you will find links to some important articles, as well as news about the company.
All the news articles displayed are sorted according to the date. Only the most recent articles are shown, but you can view more articles if you click on the "Load More" button that lies at the bottom.
The banner of this website features a collage of different employees working at the company, along with a play button that opens a video. Furthermore, each of the website elements below the banner is displayed after a cool "zoom-in" effect.
Perhaps the most interesting aspect for visitors is the static website footer, which is revealed or concealed gradually on scrolling. The effect can be best described as pulling or dropping a curtain over a stage.
Possibly the first thing you'll notice about the Honeywell website is its video banner that can be paused. And by looking at the text, you might think that the website has a red color scheme, but in fact, there is more blue on the website than red.
Another thing you will notice is that the site uses a lot of image tiles that link to different pages. These help to keep the visitor hooked to the website. Also, the feedback tab on the right and the accessibility adjustments tab on the left deserve special mention.
The header of this website has a scenic image, but on the rest of the website, the color cyan on a white background is predominant. On that note, the site uses a sticky header which makes navigation convenient.
If you scroll down, you'll find a section with links to several interesting articles about the company, categorized by topic. These articles help to keep consumers interested in the brand. There is another section targeted toward investors and a segment that offers the latest news about the company.
Different shades of blue have been utilized on this website, which makes it appealing to viewers. You'll notice that some accents and backgrounds are in red as well. The section with the red background is quite interesting, as it provides some interesting stats about the company.
Visitors may find the large banner at the top captivating too. Another interesting feature is that there are no blank spaces between the different sections, which gives the website a very compact feel.
This website features a two-part banner, where the left side is for homeowners and the right is for businesses. If you hover over either of these parts, the image will be replaced with a menu containing some useful texts and links.
You will find a lot of information and images on the website homepage, so it is highly convenient for visitors seeking their services. Also, the sticky header makes it convenient to navigate the site. The user convenience is further enhanced owing to the static accessibility adjustment and feedback tab.
A navy blue color scheme has been used on this website, which is in line with the company logo. Apart from that, you will notice that parts of the header and footer are gray, which makes for an interesting color combination.
This site has a relatively simplistic design, with only two major sections. One of them deals with some interesting articles about the company, and the other deals with all the latest news. And at the bottom of the video banner, you'll find links to the major services offered by the brand.
---
How to Build an Outstanding Industrial Website
Are you in the process of building a new website for your industrial company? How exciting!
Let's walk through some of the most important steps in building a new, or redesigning an existing, industrial company website.
Feel free to skip the first few sections if you already have a domain name, hosting service, and website platform picked out!
1.) Acquiring a Domain Name
Selecting a domain name for your industrial website is a crucial step in establishing your company's online identity. It serves as the address that visitors will use to access your website, and it plays a significant role in branding and recognition of your company.
Here's a step-by-step process to help you choose the perfect domain name:
Brainstorm: Start by generating ideas for your domain name, considering the name of your business, the nature of your industrial services, and your location.
Simplicity: Strive to keep your domain name simple, easy to spell, and pronounce. Avoid using complex words, hyphens, or numbers.
Consistency: If your business has an established brand name, it's generally a good idea to include it in your domain name. For example, if your company name is Marson Industrial Chemicals, don't register a domain name like ChemicalTankOptions.biz.
Availability: Check the availability of your desired domain names before proceeding too far. Many common domain names have already been registered. If that's the case, see if your desired domain name is unused and available for purchase. However, be cautious about investing too much money in acquiring a domain name that is for sale.
Domain Extensions: Consider which domain name extension best aligns with your website's purpose. While .com is the most common and widely recognized extension, there are many other options available, such as .net, .org, or industry-specific extensions like .industrial.
Legal Considerations: Before registering your domain name, it's important to conduct a trademark search to ensure that your chosen name doesn't infringe upon someone else's intellectual property. Avoid registering a domain name that includes another industrial company's business name or a well-known industrial equipment brand, for instance.
2.) Selecting a Website Platform
After figuring out your domain name, the next step is selecting a website platform for your industrial website.
Most industrial companies are going to develop content-based websites with phone numbers and contact forms to drive conversions.
You'll typically only see industrial websites adding ecommerce if they are selling privately through wholesale or B2B ecommerce interfaces.
For Content Websites:
When it comes to content-based websites, industrial companies have several platform options, including WordPress, Wix, and other hosted website builders.
WordPress: WordPress is a highly versatile and widely used content management system (CMS) that offers great flexibility and customization options. It caters to all types of industrial company websites, from simple sites to more complex ones showcasing various services. With a vast collection of industrial-themed themes and plugins available, WordPress enables you to create a highly tailored website that suits your industrial company's needs. It provides control and scalability, allowing you to expand your website's functionality over time. While there is a hosted version of WordPress, most users opt for the self-hosted version.
Wix: Wix is another hosted platform that offers a range of page building features similar to WordPress. It is a suitable choice for industrial company websites. We have worked on industrial websites built with Wix and find it to be a solid page builder option. With Wix, you won't require a separate web hosting service.
For Ecommerce Websites:
If your industrial company sells products online, there are several options to consider, such as WooCommerce and Shopify.
WooCommerce: If you plan to build an online store for your industrial products using WordPress, WooCommerce is the recommended ecommerce plugin to install. It seamlessly integrates with WordPress, allowing you to add ecommerce functionality to your existing industrial website. With a wide range of extensions, payment gateways, and inventory management tools, WooCommerce is an ideal choice for industrial companies looking to sell online.
Shopify: The Shopify platform is a leading ecommerce solution that provides everything you need to create and manage an online store for your industrial products. It is a hosted ecommerce platform, eliminating the need for a separate web hosting service. With a user-friendly interface, customizable themes, built-in security, and various features for inventory management, payments, and shipping, Shopify is a reliable choice for industrial businesses.
Web Hosting Requirements
If you choose a platform like WordPress or WooCommerce, you will need to find a web hosting service.
For WordPress websites, we recommend our own web hosting service, as it is optimized for WordPress. If you prefer other hosting companies, consider the following reliable options:
WP Engine: WP Engine is an excellent web hosting service for industrial companies. With a user-friendly control panel and seamless backup process, WP Engine offers a great hosting experience. However, be aware of the limitations they place on PHP max_execution_time, and keep in mind that pricing can increase for upgraded services.
SiteGround: SiteGround is another recommended hosting service for industrial companies. With reliable live chat and email support, SiteGround provides quick assistance. Their backup tools are user-friendly, and they offer reasonable pricing plans suitable for industrial companies.
Digital Ocean: Digital Ocean is a great option for advanced cloud hosting, although it may be more advanced than what most industrial companies require. It provides a reliable cloud network, and although cloud hosting can be costly due to various factors, Digital Ocean offers a stable and efficient solution. For server administration, you can consider AdminGeekZ.
3.) Selecting a Website Template
Many industrial companies prefer to purchase and customize pre-built website templates to save on web development costs and time. However, if you prefer a custom design, you can always hire a custom web developer or custom ecommerce developer to create a theme tailored specifically for your industrial business.
For setting up an industrial company website, let's focus on suggestions for finding pre-built website templates. Here are some links to the main theme marketplaces you can explore:
WordPress Industrial Themes
You can find free themes at wordpress.org, or consider industrial-inspired templates on ThemeForest.
Industrial – Themeforest
$69
Industrium – Themeforest
$39
Industo – Themeforest
$59
Amwerk – Themeforest
$69
Wix Industrial Themes
Browse free and paid themes in the marketplace at wix.com, some of which are suitable for industrial companies.
4.) Crafting Content & Adding Visuals
Now that you have your domain name, website platform, and theme sorted, it's time to start creating content for your industrial company's website!
There are several tips you can follow to develop engaging and effective website copy. Let's explore a few of them:
Know your target audience: Before writing a single word, have a clear understanding of your target audience. Define their demographics, preferences, and needs. Tailor your content to address their pain points, provide value, and resonate with them. This will help ensure that your industrial company appears in relevant search engine results.
Define your key messages: Determine the main messages you want to convey through your website content. These should align with your brand, highlight your unique advantages, and clearly communicate the benefits of your industrial products or services.
Keep it concise and scannable: Online readers tend to skim content, so make sure your writing is concise and easy to digest. Use short paragraphs, bullet points, subheadings, and bold text to break up the content and enhance readability.
Create clear and compelling headlines: Craft attention-grabbing headlines that immediately convey the value and relevance of your industrial company. A well-crafted headline can encourage visitors to explore your website further and learn more about your offerings.
Incorporate keywords strategically: Conduct keyword research to identify relevant keywords and incorporate them naturally throughout your content. This can improve your industrial website's visibility in search engine results. However, avoid excessive keyword usage, as it can negatively impact readability and user experience. Tools like Ahrefs or Semrush can assist with keyword research.
Maintain a conversational tone: Write in a conversational manner that resonates with your industrial audience. Avoid jargon or overly technical language unless it's necessary for your target audience. Engage your readers by addressing them directly and using a friendly, approachable style.
Edit and proofread: Always edit and proofread your content before publishing. Check for grammar, spelling, and punctuation errors. Ensure the flow of your content is smooth and logical, and that it aligns with your brand voice and style guidelines. Tools like Grammarly can be helpful in this process.
Utilize ChatGPT for assistance: If you need help generating ideas or refining the content on your industrial company's website, consider leveraging AI tools like ChatGPT.
You should also enhance your content by incorporating relevant, high-quality images. Here are some tips:
Choose high-quality visuals: Opt for high-resolution images that are visually appealing and well-composed. Blurry or pixelated images can diminish the overall quality of your industrial website.
Ensure relevance: Select images that are relevant to your content and help illustrate your message. The images should enhance the text and provide additional context or visual interest for your industrial company.
Explore stock photo resources: Utilize reputable stock photo websites like Unsplash, Pixabay, or Shutterstock to find a wide range of professional-quality images that align with your industrial theme. Be mindful of licensing requirements and provide proper attribution when necessary.
Customize images when possible: If you have the skills or resources, consider customizing or branding images to align them with your industrial company's brand. This can help create a cohesive visual experience for your visitors. Tools like Adobe Photoshop or Canva can assist with image customization.
Optimize image file sizes: Compress images to optimize their file sizes without compromising quality. Large image files can slow down your industrial website's page speed, affecting user experience and SEO. Tools like TinyPNG can help with image compression.
5.) Post-Launch Strategies
Once you have built and launched your industrial company's website, there are several important tasks and services to consider for maximizing its effectiveness. Here are some essential suggestions to help you navigate post-launch activities:
Search Engine Optimization (SEO): Implementing SEO strategies is crucial for improving your industrial company's visibility in search results. Conduct keyword research, optimize your content, and ensure your website has a solid internal linking structure. Regularly update and create fresh, high-quality content to attract organic traffic. Consider our SEO services or explore reputable providers like The HOTH.
Paid Advertising: For quicker traffic results, consider utilizing paid advertising platforms such as Google Ads or Facebook Ads to drive targeted visitors to your industrial business. Hire our PPC management services or find skilled professionals on platforms like Mayple.
Conversion Rate Optimization (CRO): Analyze your website's performance and user behavior using tools like Google Analytics. Identify areas where users may drop off or encounter barriers to conversion. Conduct A/B testing with tools like VWO to make data-driven changes that enhance your industrial website's conversion rates and overall user experience.
Website Security: Safeguard your industrial website from malware and exploits by implementing robust security measures such as SSL certificates, web application firewalls (like Sucuri), and regular backups. Keep your CMS, plugins, and themes up to date to minimize vulnerabilities. Monitor your website for potential security risks and promptly address any issues. Consider using a service like UptimeRobot to monitor website uptime as well.
Website Maintenance: Regularly maintain your industrial website to ensure optimal performance. If you use WordPress, this includes updating plugins and themes, monitoring website speed and performance, and resolving broken links or errors. Consider our website maintenance services or hire a freelancer from Upwork. Remember to regularly back up your industrial website to protect against data loss or technical issues.
User Feedback and Testing: Actively seek user feedback to understand visitor experiences and identify areas for improvement. Implement user testing to gather insights on how users interact with your industrial website. Utilize this feedback to make iterative enhancements and continuously optimize the user experience.
Content Updates: Keep your website content fresh and up to date. Regularly publish new blog posts related to the industrial sector, update product or service information, and ensure all information is accurate and relevant. Engaging and valuable content not only attracts visitors but also encourages them to return and share your content with others in the industrial field.
Remember, post-launch digital marketing activities are crucial for the long-term success of your industrial website. Stay proactive, monitor performance, and adapt your strategies to achieve your business goals and meet the needs of your audience.
---
FAQs about Web Development for Industrial Websites
Why should I consider a website redesign?
A website redesign offers benefits such as refreshing your site's look and user experience, improving performance and mobile compatibility, adapting to brand changes, adding new features, and enhancing search rankings. It's a proactive way to stay competitive and achieve digital goals effectively.
Can you assist with domain registration and hosting for the new website?
Yes, we can definitely assist you with domain registration and hosting for your new website. We offer domain registration services to help you secure the right web address for your business. Additionally, we provide hosting solutions that ensure your website is accessible online.
Can I update the website myself once it's built?
Absolutely, once your website is built, you'll have the ability to update it yourself. We design websites with user-friendly content management systems (CMS), such as WordPress, which allow you to easily add, modify, or delete content, images, and other elements without needing technical expertise.
What is the cost of an Industrial website?
You can expect the starting price of a template-based Industrial website built in WordPress to be around $4,000. If you need design mockups built into a custom theme, expect a higher starting price in the area of $10,000. If you are looking for an ecommerce website for your industrial business, you can expect quotes to start around $6,000 if the site is in Shopify or WooCommerce. Likewise, if you need custom mockups built into a custom theme you can expect a higher starting price of around $20,000. The main contributors to cost increases include premium design requirements, custom functionality, and data migration.
What if I need help on my site down the road?
If you require assistance with your website in the future, we're here to help. Our ongoing support services cover a range of needs, from technical troubleshooting and updates to content changes and feature additions.
---