What makes a website high-end? There are many qualities that come to mind, but some of the most important ones are aesthetics, usability, and content. In this blog post, we will discuss 10 characteristics you need for your website to be considered high-end.
---
What to Look for in a Premium Web Design
1.) Planned out content structures
The content of your website should have a logical structure. It is also important that the site's overall design doesn't inhibit visitors from browsing and engaging with this content.
You can do this by separating your content into categories, making sure the pages flow logically from one to another, and by using menu-based navigation.
2.) SEO-friendly design and layout
It's important that your site is designed with SEO in mind if you want rank high in the search engine results pages (SERP).
Doing this ensures visibility and the ability to grow without spending a fortune on ads or sponsored services – This is the power of SEO! As such, you should add SEO-friendly design elements to your site.
For example, it's important to use keywords in your title tags for SEO because it helps the search engine bots crawl and understand each page better.
3.) A "message first" design
The primary goal for any website is always user experience, but most people don't know what message they want to communicate or how their site fits in with their company goals.
They might not even be aware that this question needs answering until they start designing the site and asking, "What are we trying to say here?" Users should never feel confused about what you're trying to say or why you do what you do.
There needs to be purposeful reasoning behind every decision you make as a web designer, so take some time early on to figure out what the message is.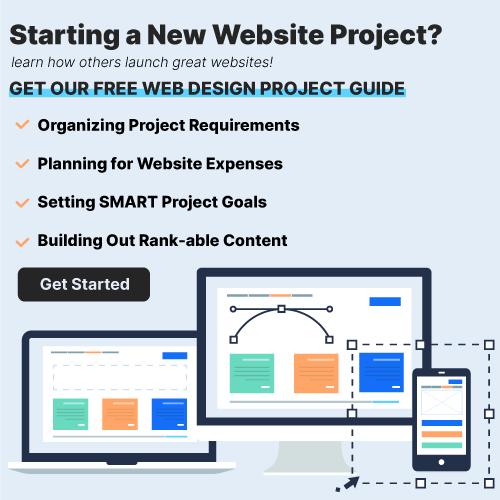 4.) A clean and elegant design, that doesn't distract the reader
There are a lot of web design trends out there, but one of the most important ones is for a website to not be messy and cluttered.
The goal should be less about "cute" or what's trending at any given moment, and more about making sure that your website's design is easy to use and understand.
The key is simplicity. For example, high-end designers know that using dozens and dozens of colors on the same page is a complete "no no". You see, great designers are aware that too many different styles create chaos and confusion.
Another thing that you might not have thought about too much is the type of font that you'll be using. Simply put, not all fonts are equal, and not all devices can use just any font, or will they look the same for everyone trying to get to your website. Google Font API aims to fix the compatibility problem while also giving you a huge selection of font styles for you to choose from, all for free!
5.) Good use of relevant, high-quality images
In web design, visuals are everything, so you'll want to ensure that your developers use high quality images. Use high-resolution photographs, keep images at realistic sizes for their purpose, use alt tags for SEO, and make sure they're uncluttered so that users can focus on them without distraction.
6.) Proper maintenance, visible from a lack of website issues
This is another thing that the best websites have in common, regardless of their industry or audience… they're always changing and improving to maintain a high-quality website.
It's inevitable that things will go wrong on your website. You can't foresee every single challenge, and sometimes the simplest of errors turn into full-blown problems.
As we've seen from our experience with client sites over the years, having an emergency maintenance plan is essential if you want your site up and running at all times.
7.) Easy to use navigation on mobile and desktop
It goes without saying, but if people can't find their way around your website, then there really isn't much point in having one at all.
The first impression someone gets of any website you design will be how intuitive its navigation seems. The absolute worst result is a visitor that has to click all over the place just to find what they're looking for – this is a huge sign that you need to rethink your navigation.
8.) A responsive design that actually works well on mobile devices
Sites are often not compatible on different devices, which is a major problem that can lead to frustration and confusion. Your site should be easy to use on desktop, mobile, tablet, and more. Basically, every visitors needs to have the same AWESOME experience.
You've probably experienced this before — you're using your phone to enjoy content or research something, but the website is unreadable.
The best way to make sure that visitors trust your site is by making it responsive. This will keep them from fleeing the moment they see a complicated layout on an outdated browser.
9.) A professional tone within content writing and image selection
One key characteristic you might not have thought about is how professional your website looks and performs. In fact, the design of your website is an extension of your business, so it needs to be done right.
If all of your content looks like it's thrown together or doesn't make logical sense, then there isn't any reason why anyone would want to do business with you. It simply removes trust.
As such, you should never design a website without thinking about what it will be like for people reading it. Ask yourself, "Does this website really convey the excellence that we strive for as a business?"
Work with an experienced, professional web designer who specializes in high-end work. This will give you the best chance of receiving a website that represents who you are and what you do.
10.) Custom functionality or other unique features that set the website apart
Web design is a constantly evolving field, and the best websites always have custom code that's tailored to their unique needs. This type of code might be developed in PHP, JavaScript, Vue.js, React Native or one of many other languages.
A template might seem like it will save you time, but in reality, your site won't be as high-end if it looks like everything else on the internet – what makes yours stand out?
Templates can also stop working properly when new updates are made, which leaves you with files full of broken codes. Finally, you have the freedom to follow your creative or innovative ideas. You're not limited by another company's restrictions on how they want things done – anything is possible!
---
Final Thoughts on High End Web Design Services
In conclusion, a website's design is an extension of your brand. As such, it needs to be taken very seriously.
Having a high-end website that you can be proud of requires a professional design, clear navigation for visitors, responsive design, strong message, and more. Use the 10 characteristics in this article to make sure your website is on the right track.
---