Planning your website can seem like an overwhelming process, but it is actually quite simple. This blog post will cover 5 of the most important steps that are involved in the planning phase of a new website. It also provides tips on how to avoid pitfalls and mistakes when designing your site's architecture.
---
Recommended Steps for Planning a Website
1.) Evaluate your existing site to determine your goals
Before beginning the next steps, it's important to assess your current online presence. Even if you don't have a website or any social media profiles, take some time to evaluate what you currently have.
If you do have a website, take some time to look at your analytics and see how many people are visiting. If you're active on social media, pay attention to which channels are bringing in the most traffic or interactions with your brand.
If you don't already have a website, you won't have to make any changes. However, you still take the following into account regardless:
Domain name – Do you already have a domain name? If not, that might be the first thing to look into. You'll want your domain name to be the exact name of your business. If you do have one, then try to keep it to reduce any confusion for any current customers.
URL structure – It's worth looking at your URL structure and seeing what it might be saying about your business. If your URLs are made up of random characters, you should create a new URL structure with the launch of your website.
Content – Take a look at your current website and social media content. If you're happy with the way it looks, then there is no need to change anything. However, if you feel like it needs an update or is out of date for any reason, now might be the time to do so!
A company's website content is its most important part. It tells visitors who the company is, provides them with their information needs and converts website visitors into customers.
2.) Choose a CMS platform that fits your needs
The next step is to choose the right CMS for your website. If you're not sure what a CMS actually means, it stands for "Content Management System".
Your first option is to code an HTML site from scratch! – This offers the most versatility, but is also the most time-consuming and difficult option. It's almost a guarantee that you'll have to hire a professional developer, which can be expensive.
You can use a website builder like Squarespace to create your site with no coding required – but there are still some limitations. You'll be able to choose from an existing template that fits within their product line, so it might not look exactly how you want it to in the end.
The third option is WordPress! – It's free (if hosted on your own server), which makes this CMS accessible for all budgets and skill levels. Plus, because it's open-source software, anyone can make any kind of plugin or theme available online. This gives you the ability to change almost every little thing about what your website looks like if needed!
A content management system allows anyone with access to an account on your site (usually via login) to edit and add new content without needing any advanced knowledge of how it works. This makes it incredibly easy to update anything!
There are many different types of web-based CMS tools available today, such as WordPress, Drupal, and Wix. But with so many available, it can be overwhelming when trying to decide which one will best suit your needs. To help make things easier, here are some questions that should get you started in the right direction:
Do you want to use a CMS that requires hosting? If so, which one should you choose and where can it be hosted for the best price point?
What is your budget for this project? This will determine how much time, energy, and money are put into making your website possible.
Will there be any specific platform requirements needed by end users? (for example iOS or Android)?
Once these questions have been answered then choosing the right CMS becomes significantly easier.
3.) Determine what functionality you need
Now that it is clear what CMS you need for your website, the next step is to determine what features and functions are needed.
Do you need a basic website or something with more advanced features? Essentially, this will depend on what you want to use the website for.
If you're looking into selling products directly through your online store, then eCommerce features are going to be a necessity. This includes having customer checkout pages and payment processing. This is just one example though; there may also be other specific functions depending upon your business type (such as booking systems).
One other thing you want to be aware of is whether you want your website to have a separate mobile site or for it to simply be responsive. Check out our article on the best mobile websites on the internet!
4.) Choose a web designer or web developer to help you build your website
Now that the CMS and functionality have been determined, it is time to choose a web designer or agency.
When choosing an agency, take some time to research their previous work by reviewing websites they've designed before. If possible, look at other companies in your sector that are using the same website design – this will give you a better idea of what works well within your industry. You can also ask for recommendations from friends or family members if they already know any agencies with good reputations.
If you're going down the route of hiring a freelance designer instead, then make sure to find someone with sufficient experience when it comes to designing sites on different platforms (for example, WordPress). It's important that there isn't too much difference between how the site looks when tested on different browsers (Safari, Google Chrome, Internet Explorer, etc.) and devices (PCs/laptops, tablets, and mobiles).
Similar to nailing your dream job's interview, you will want to ask your chosen web designer great questions in order to make sure they are up for the task your about to bestow upon them! Here are the best websites we could find to help inspire you on your next web design project.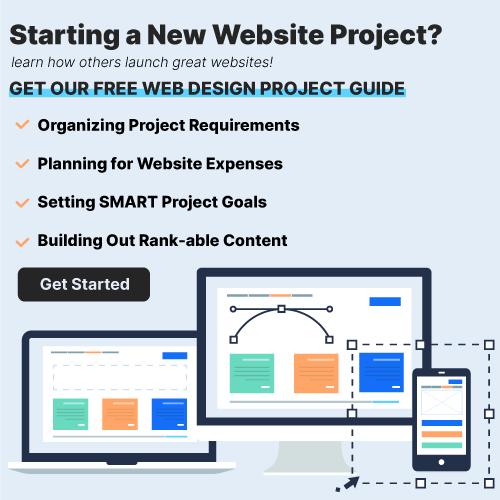 5.) Determine your budget for the web design services
Finally, it is important to know what your budget is before hiring a designer or agency. There are plenty of different providers available, so there's no need for you to rush into anything and accept the first offer that comes along.
It is important to remember that choosing the right website design doesn't need to be expensive. Although it can sometimes feel like a big expense, there are many different options available (such as CMS templates), which means you don't necessarily need to pay for a completely bespoke solution if your budget isn't high enough.
The more complex and advanced the functionality on your site is going to be, then of course this will require additional time and work from both yourself and any chosen web designer or agency – but again, the sky's the limit when searching for something within your price range!
---
Final Thoughts on Planning for a Web Design
In conclusion, the process of planning a website is not as difficult as it might seem at first.
By knowing what CMS you need, determining the functionality and features needed for your site, working with a web designer or agency to build an attractive design based on those needs, and confirming that everything meets within your budget – anyone can have their own professional-looking website up and running in no time!
Before making any decisions, be sure to keep all of these steps outlined above in mind! By taking things step-by-step it should become much easier than trying to do everything at once – which could lead you to overlook something essential when designing your website design!
---