Are you trying to use TikTok to get millions of views? The platform is blowing up and successful businesses and personalities are made each day. If you're looking to reach the most people you might've asked yourself "when is the best time to post on TikTok?"
This question gets asked a lot for almost all social media platforms such as Facebook and Instagram. Almost all of our social media marketing customers are curious about when the best time to post online.
Now there are lots of data out there to prove which times of the day are best to post on TikTok to get the maximum amount of reach, BUT there's a bit more to it than that.
The type of content you produce and current trends are going to play a role in this as well.
SO.. in this article, we'll be sharing with you multiple ways to determine the best time to post on TikTok.
Ready?
---
Best Time to Post on TikTok Today
Let's start with the basics.
This company analyzed over 100,000 posts on TikTok and studied their engagement rates.
Here is what they were able to come up with. (All times are EST)
Monday: 6 AM, 10 AM, 10 PM
Tuesday: 2 AM, 4 AM, 9 AM
Wednesday: 7 AM, 8 AM, 11 PM
Thursday: 9 AM, 12 AM, 7 PM
Friday: 5 AM, 1 PM, 3 PM
Saturday: 11 AM, 7 PM, 8 PM
Sunday: 7 AM, 8 AM, 4 PM
Note that times that are [bolded] offered some of the highest levels of engagement overall!
Here's a chart to help you visualize the data.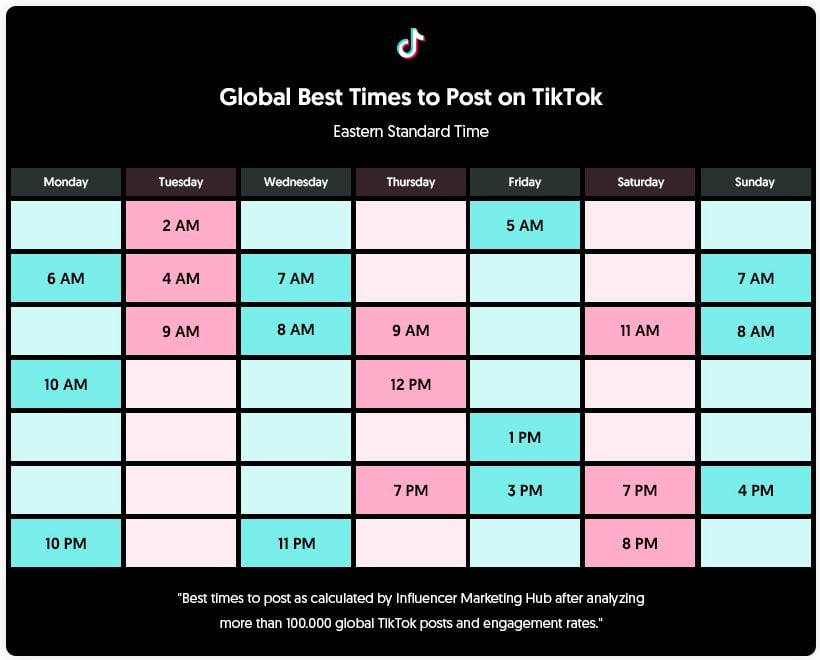 Let's give a huge round of applause to the people over at Influencer Marketing Hub for getting us this data.
Now looking at this study offers us one method for determining the best time to post on TikTok but there are more!
Let's look at some ways you can analyze your own data from your published videos to supercharge your video reach.
---
Tips for Best Times to Post on TikTok:
1.) Where is your audience located?
TikTok has an absolutely massive global reach.
1 in 7 people in Thailand have downloaded the app.
India has 20 million active users, China has 150 million, and the US has a solid 14 million.
Why is this important?
Well, if your videos are reaching people all around the world (which they most likely are) you can cater your video posting times to ensure you are at the top of their feed when they are most likely to be browsing the app.
How do you use this audience data to find the best time to post on TikTok?
It's time to figure out who your followers are.
If you haven't already, change your TikTok account into a Pro account.
Doing this will offer you new features including account analytics.
These account analytics will provide insight into who your followers really are. You'll see information like:
percentage of followers by gender
top regions your followers live in
If you haven't switched to a Pro account yet, then here's how:
Open the app and visit your profile. Next, access your privacy and settings area by tapping on the three dots in the top right-hand of your mobile phone screen. Then, go to Switch to Pro Account.
How do I access my TikTok analytics?
Once logged in to your TikTok account go to Privacy and settings.
2. Click Analytics
3. Click the Followers tab
Now you'll be able to see an overview of your audience demographics.
2.) What time is your audience awake?
Now that you've switched to a Pro TikTok account and know where your followers are located, it's time to figure out when they are awake to watch your posts.
A simple understanding of time zones should do the trick.
If you're located in California and a huge portion of your followers are in Korea, you might want to consider posting at 5 pm on Monday so your video hits their feed at 9 am on Tuesday which is a high engagement time slot.
Unfortunately, you can't use any social media scheduling tools like Hootsuite to schedule out TikTok posts (yet).
Instead, you'll have to create a content schedule on your own and post at pre-scheduled times manually to ensure you hit the right windows.
Now that you know 2 methods to determine the best time to post on TikTok let's discuss some tips on growing your audience.
One thing you might be interested in is to see how this fits in with your digital marketing campaign. If you are looking for ecommerce digital marketing strategies we have you covered, too!
Related Content you Might Like:
3.) Frequently Asked Questions
What is the prime time to post on TikTok?
The best time to post on TikTok for maximum reach is 9 am Tuesday, 12 am Thursday and 5 am Friday all Western standard time. This study found these time slots to have the highest amount of engagement.
Does posting time matter on TikTok?
Yes, it matters if you want the most views. Ultimately your audience will determine the best time to post, so publishing new content during hours while they are awake helps to get your video at the top of their feed when they are browsing TikTok.
What are the best times to post on TikTok 2021?
Monday: 6 AM, 10 AM, 10 PM
Tuesday: 2 AM, 4 AM, 9 AM
Wednesday: 7 AM, 8 AM, 11 PM
Thursday: 9 AM, 12 AM, 7 PM
Friday: 5 AM, 1 PM, 3 PM
Saturday: 11 AM, 7 PM, 8 PM
Sunday: 7 AM, 8 AM, 4 PM
---
Extra Tips to Help Grow Your Following on TikTok
Publishing your videos at the right time can certainly help with exposure but if you're serious about growing your reach on TikTok you'll need more than that.
1.) Define Your Specialty
If you want to attract and retain a large following you'll need to first think about what makes your TikTok videos so special. Your "X-factor" is a certain style or collection of traits that help you stand out. Your skills or physical features can then sometimes help enhance these traits.
An example would be someone who is naturally over the top and funny (trait) that makes extravagant and lifesize dog treats (skill). Sure their ability to make awesome-looking dog treats is unique but their personality that accompanies it is what really seals the deal and makes the TikTok much more enjoyable to watch.
2.) Increase Upload Frequency (Kind of?)
Though this one might sound obvious at first, there's something special about this kind of upload schedule you might not know about.
It's safe to assume that the more videos you can produce the more chances you have of gathering views and followers. However, a good TikTok requires creativity and lots of time if your sketch is more elaborate.
So, to increase your total uploads without taking up much more of your time, consider uploading two styles of videos.
Viral style videos: These are your best of the best videos. Ones that take the most time and stand the best chance of going viral.
Updates/Documenting: These are quick behind the scene videos where you just quickly pick up your phone and update your followers on what you're up to.
What you'll notice with these two styles is, you'll continue to produce your main content (The stuff people followed you for in the first place). But now, you are implementing those with quicker update videos. These kinds of "behind the scenes" videos are quick to make and also strengthen the relationship with your current audience since it builds more of a personal connection.
In short, the viral videos get the followers and the updates keep them.
3.) Collaborate With Other Creators
This is the process of working alongside one or a couple of other TikTok creators and creating content together that gets shared across multiple accounts.
By doing this you and your X-factor will be exposed to the other creator's fans which often results in a surge of followers and the video performing really well. This is thanks to both your fans and your collaborator's fans engaging with the same content, in essence doubling overall view and likes.
Easier said than done of course. Work hard to find someone who either produces similar content as you or someone you think you'd get along with well. Begin to interact with them on social media and try to build a relationship there.
Don't shy away from doing smaller collaborations when you first start out. As your following and confidence grows you'll then be able to approach larger creators.
4.) Use Hashtags
Hashtags are at the core of TikTok's search bar. By labeling your videos with correct hashtags you'll stand a better chance of showing up for some looking for that style of video.
It's important, however, that you're choosing the correct hashtags and not just every single one that remotely makes sense.
To find the best hashtags to use, you'll need to combine TikTok's auto-populated results with a bit of your own judgment.
Start by entering a keyword relevant to your video. From there go down the list adding all the hashtags that both make sense for your video and yield lots of views.
This approach will make your content more relevant to TikTokers who come across it.
---